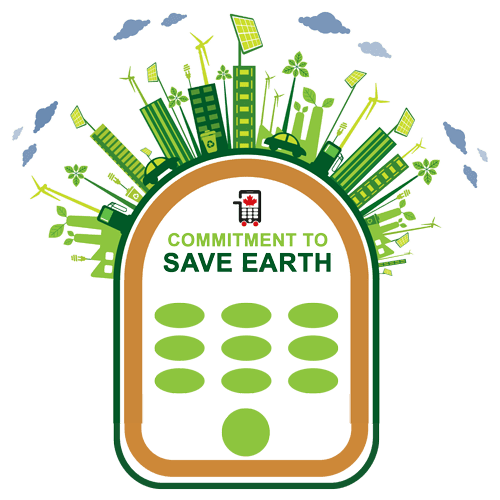 Take a look at our ongoing commitment to protect the environment through clear and ambitious performance targets, goals, and initiatives, including activities that help manage our exposure to environmental risk. At Phones Canada we are committed to protecting the environment, both as a responsible insurer and as an environmentally responsible corporation by:
Enabling our clients to benefit from our environmental risk prevention expertise. This commitment primarily concerns the effective management of environmental risks for businesses, through our role as an insurer and asset manager. This is undertaken via, for example, educating our clients about the importance of environmental risk prevention or recycling e-waste. When required, Phones Canada helps such clients to identify environmental risks and take the preventive measures needed. Phones Canada practices and encourages environmentally responsible behavior by businesses, manufacturers, and governments through the development and/or promotion of specialized funds for our retail and institutional clients.
We offer thoroughly detailed reporting of devices down to the screws showing how it was reused or recycled. Improving environmental records is undertaken by setting up a device management system for various scales or types of businesses Canada-wide. This is notably based on an annual reporting system that enables optimization of End-of-life ("EOL") of various devices. Through refurbishing, remanufacturing, or maintenance we are able to extend the life of devices or find a safe, environmentally beneficial way of recycling them.
5000+
Devices Recycled
or Remanufactured
40000+
eqkgCO2 Recovered
For our Earth
100+
Business Environmental
Footprint Decreased
5000+
Environmental Reach
Trees Planted
Phones Canada attempts to reverse the damages.
Have a Question?
If the question you have has not yet been answered here, use the form by clicking the ask question button below.