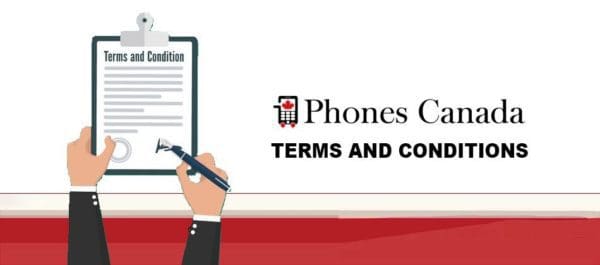 Welcome to PhoneCanada.com!
ALL TRANSACTIONS WITH PHONES CANADA ARE GOVERNED BY THE POLICIES, TERMS AND CONDITIONS SET FORTH BELOW IN THESE TERMS & CONDITIONS ("AGREEMENT"). PLEASE READ THIS AGREEMENT CAREFULLY. YOUR PURCHASE INDICATES YOUR ACCEPTANCE OF THESE POLICIES, TERMS AND CONDITIONS. PHONES CANADA MAY AMEND THIS AGREEMENT AT ANY TIME BY POSTING THE AMENDED TERMS ON OUR WEBSITE. AMENDED TERMS WILL BECOME EFFECTIVE IMMEDIATELY AFTER THEY ARE POSTED ON OUR WEBSITE.
Acknowledgment: This purchase agreement is entered into as of the date appearing on the invoice between Phones Canada ("Seller") and the person identified in the invoice ("Buyer") and shall be the contract between the parties for all purchases by Buyer of merchandise sold by Phones Canada to Buyer.
Prices: Prices for all merchandise sold by Phones Canada to Buyer shall be those prices that appear on the invoice to Buyer accompanying the shipment of the above order. Seller shall notify Buyer of the basis for any increase in price.
Product Conditions: Products sold by Phones Canada may be new, used, or refurbished. All products are sold "as is" without any warranty of any kind. Phones Canada will provide a detailed description of the product condition in the invoice or quotation provided to the Buyer.
Payments: Buyer shall pay the entire invoice amount by electronic funds transfer or other payment method agreed upon in writing by Phones Canada. Payment shall be made within the terms of the invoice, unless otherwise prior agreed in writing by Phones Canada. Phones Canada reserves the right to cancel any order if payment is not received within the terms specified on the invoice.
Shipping: Purchased products are FOB (Freight on Board). Shipping charges are not included in the purchase price. The Buyer is responsible for all associated costs with scheduling, shipping, and handling, taxes, duties, and transit insurance. Products are shipped directly by Phones Canada, unless otherwise stated. Upon verification of electronic funds transfer or other agreed-upon payment, and provided that the payment has cleared, the purchased invoice will be released to our shipping and handling department. Shipment can be organized within 24-72 hours from receipt of payment and precise delivery instructions (*Excluding holidays and weekends). At the customer's request, Phones Canada will use its approved shipping carriers with the best rate and add the costs to the customer invoice. Otherwise, customers may also provide Phones Canada with their own shipping carrier account numbers for shipment of merchandise and must be arranged for pickup within 3 days of receiving notice from Phones Canada that the product is ready for pick-up. Merchandise remaining beyond 20 Calendar days following the purchase is subject to storage, handling, administrative charges, and insurance.
Claims or Returns: Buyer must inform Phones Canada of any discrepancies for equipment/components sold within 15 days of receiving the product. Buyer will provide Phones Canada evidence of any disputed units for inspection and review. Upon evaluation, Phones Canada agrees to work in good faith with buyer to promptly resolve any confirmed discrepancies for credit or concession as agreed upon by both parties.
Certification Program: Phones Canada requires that buyers support Phones Canada's quality and environmental management system. Phones Canada will provide buyers with copies of its certification program upon request. Buyers are not required to have their own certifications, but are required to handle Phones Canada's devices consistent with Phones Canada's programs. Phones Canada's certification program requires documented disposition of focus materials, testing records, and data destruction. Data destruction requires that buyers shall erase or destroy all data contained on the products prior to their resale or other disposition.
Legal Compliance: Buyer represents, warrants and covenants that it will comply with all applicable federal, provincial and municipal laws, statutes, acts, ordinances, rules, codes and regulations, guidance, circulars, executive orders and other official releases of or by any government, or any regulatory or other authority, department or agency thereof, in any applicable jurisdiction anywhere in the world (collectively "Laws") in connection with the products, including, but not limited to, those applicable to refurbishing, reselling, recycling and any other disposition and/or treatment, use or disposal of used consumer electronics (in whole or in part), environmental, privacy and disposal laws. At Phones Canada's request, buyer shall provide any applicable license or certificate of compliance that verifies buyer's compliance with Laws.
Export Restrictions: Buyer agrees to fully comply with all applicable export control laws and regulations, and will not export, re-export, release, or transfer, directly or indirectly, any products, software, or technology, including any products, for any proscribed end-use, to any entity engaged in the manufacture of nuclear, biological, or chemical weapons, or missile technology; or to any proscribed country (including without limitation Cuba, Iran, North Korea, Sudan, or Syria), entity, or person (wherever located), including but not limited to those entities and persons listed on the Canadian Government's Denied Persons List, Unverified List, Entity List, Debarred Parties List or Specially Designated Nationals List, without first obtaining at its own expense written authorization from the Canadian Government authorizing such export, re-export, release, or transfer.
Governing Law: This Agreement shall be governed by and construed in accordance with the laws of the Province of Ontario and the federal laws of Canada applicable therein, and the parties irrevocably attorn to the jurisdiction of the courts of the Province of Ontario.
Entire Agreement: This Agreement constitutes the entire understanding between the parties with respect to the subject matter hereof, and supersedes all prior negotiations, agreements and understandings relating to the same, whether oral or written.
By making a purchase from Phones Canada, the Buyer agrees to accept and be bound by the terms and conditions of this Agreement.
ALL CLIENTS AGREE TO BIND BY TERMS AND CONDITIONS OF THIS AGREEMENT.
Last updated Feb 1st, 2023
DO WE MAKE UPDATES TO THIS NOTICE?
In Short: Yes, we will update this notice as necessary to stay compliant with relevant laws.
We may update this policy from time to time. The updated version will be indicated by an updated "Revised" date and the updated version will be effective as soon as it is accessible. If we make material changes to this policy, we may notify you either by prominently posting a notice of such changes or by directly sending you a notification. We encourage you to review this privacy notice frequently to be informed of how we are protecting your information.
HOW CAN YOU CONTACT US ABOUT THIS NOTICE?
If you have questions or comments about this notice, you may email us at [email protected] or by post to:
Phones Canada
4 – 6110 Ordan Dr,
Mississauga, ON
L6T 2B4, Canada