Enhancing Your Smartphone Experience with the Samsung Galaxy Z Fold 5
So, you've got the Galaxy Z Fold 5, Samsung's latest and greatest foldable phone that finally addresses some of the major issues of previous Fold devices. In all honesty, even considering the lack of any major new features and changes, the Galaxy Z Fold 5 is an impressive and functional foldable device, especially when paired up with an S Pen, which is a separate purchase.
But that reveals one of the major shortcomings of a modern phone: to make best use of all its potential, you really have to make it the centerpiece of a robust ecosystem to complement and augment its usefulness.
And when we're talking about those, one company has become a synonym of a rich ecosystem that has just about any solution to your hardware and software needs, be it an accessory or a whole other device to use seamlessly with your phone – Apple. Aside from the iPhone, Apple will happily sell you an iPad, or a MacBook, and a pair of AirPods, of course, and all of these will seamlessly work with one another, giving you a cohesive experience.
Samsung also has a very decent ecosystem, and in this article, we'll briefly discuss how you can make better use of it.
Samsung Software Ecosystem & Continuity features
Samsung Flow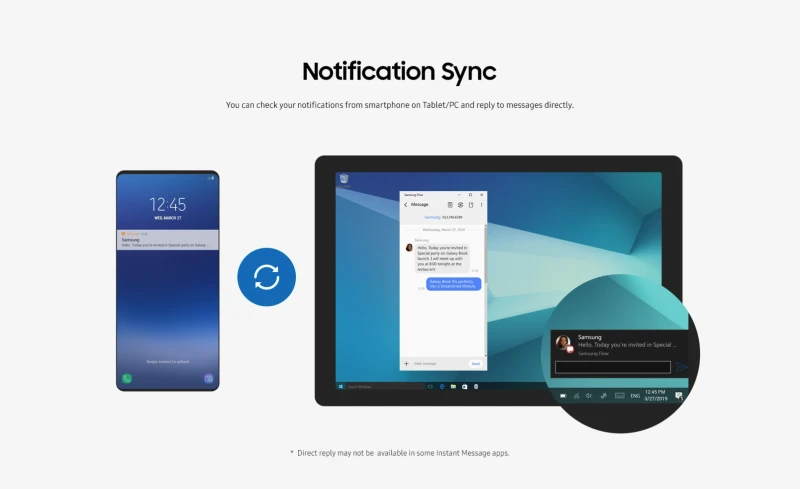 If you have a Galaxy Z Fold 5 phone and a tablet or PC, the dedicated Samsung Flow service is probably the easiest way to get some neat continuity features on your companion device. What's Samsung Flow? Well, in its essence this one is a handover service that allows your phone to communicate with your tablet or a PC, but it allows for so much more:
Notification sync between phone and paired tablet/PC
Handover of content and activities
Smart View that allows you to view your phone's screen on the connected device
Automatically link hotspots
Secure access to your computer
To make use of Samsung Flow, you will need a Galaxy phone as well as the Samsung Flow companion app that's available for Android tablets and Windows PCs. MacOS is not supported right now.
Samsung Hardware Ecosystem & Accessories
Extra functionality: S Pen and S Pen case
The S Pen seems to be the very best accessory you might consider for your Galaxy Z Fold 5. The extra functionality delivered by the stylus is unmatched and unlocks a whole new layer of capabilities for your device.
Take notes? Sure thing. Draw something to pass the time? You got it, buddy. Make a creative screenshot of a select screen area? The world is your proverbial oyster, pal!
With an S Pen in tow, the Galaxy Z Fold 5 turns into the pipe dream of all Galaxy Note users from back in the day, which seemingly always longed for a large S Pen-capable device. Sure, the display crease slightly affects the writing experience, but nothing too extreme.
In order to make best use of the S Pen, you should also consider getting a matching S Pen for the Galaxy Z Fold 5, which is also sold separately.
Audio: Galaxy Buds
Completing your Galaxy ecosystem with a pair of earbuds is paramount, especially if you desire to consume media on the large and vibrant display of the Galaxy Z Fold 5.
Samsung currently has a bunch of earbuds on sale, namely the excellent Galaxy Buds 2 Pro with their exceptional noise-cancellation and ergonomic design as well as the slightly more compact Galaxy Buds Live. Each of these will pair up nicely with your Galaxy phone for excellent audio quality and excellent addition to your ecosystem.
More screen real estate: Samsung Galaxy Tab S9 series
In case you need even more screen real estate in conjunction with your Galaxy Z Fold 5, then one of Samsung's newest tablets might be an excellent choice. The Galaxy Tab S9 family is with all-new powerful internals, including the Snapdragon 8 Gen 2 for Galaxy, bright and vivid displays, and lastly, yet another S Pen, this time included in the box. Being of the same ecosystem allows you to seamlessly connect your Galaxy Z Fold 5 thanks to Samsung Flow.
Even more functionality and screen real estate: Samsung Galaxy Book
Samsung is a rather prolific PC manufacturer, with multiple Galaxy Book laptops on the market. And what's the Galaxy Book to the Galaxy Z Fold 5? Well, it's the proverbial MacBook to the iPhone, so to say.
Being of the same ecosystem allows for seamless unified experience between Samsung's two devices even though one runs Android/One UI 5 and the other comes with Windows 11 out of the box. If you're on the market for a new laptop, then the Galaxy Book 3 could be an excellent buy that will easily and cohesively work in tandem with your phone and earbuds.