Reddit Introduces a New Contributor Program
Reddit is a social media platform where users can discuss and share content on various topics through communities called subreddits. As per the latest data, Reddit has more than 50 million daily active users and more than 1.6 billion monthly active users, making it one of the biggest and most popular social media platforms in the world. So, imagine being a paid contributor to the platform. Probably, not going to be too bad, right?
Reddit announced that it is introducing a new Contributor Program, which will allow eligible redditors, including mods, to be rewarded with real money for their content and contributions on the platform. The money for the awarded content will be paid monthly, and the program begins rolling out today in the US for both web and mobile apps for iOS and Android.
If you're logged into Reddit, you can access the program through your profile menu. Once you click on it, you'll land on the program page. If you meet the criteria to join the Contributor Program, you'll find a "Get Verified to Start Earning" button you can tap.
Reddit's Contributor Program allows eligible users to earn real money by contributing, and your monthly payments are based on the karma and gold you receive. To qualify, you need to be at least 18 years old, reside in an eligible location (initially, only the US), have an account in good standing, and meet the karma requirements.
Reddit offers "standard contributor" status, earning 90 cents per gold awarded, to users with at least 10 gold and between 100 to 4,999 karma in the last 12 months. For "top contributors," who earn $1 per gold awarded, the threshold is a minimum of 10 gold and over 5,000 karma from the past 12 months. Those who fall below these thresholds won't be eligible for real-world payments until they meet these goals.
Reddit has also revamped its gold system for awarding content. Users can now long-press the upvote icon on mobile (or hover over it on desktop) to access six gold awarding options, starting at $1.99 for one gold and going up to $49.00 for 25 gold. When you award with gold, a golden upvote replaces the regular one, but you still earn karma with regular upvotes. This feature is initially available on Reddit's mobile apps and selected communities, with a web rollout planned for later this year.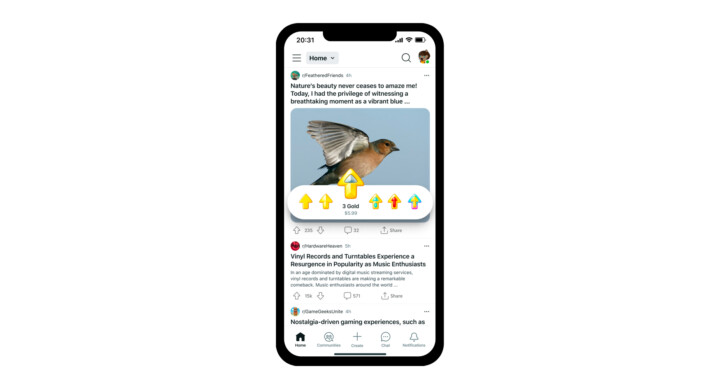 Image Credit–Reddit