We were to get them at the same price with faster processors and high-res cameras borrowed from their Pro siblings of last year, as they also offer very little in terms of other hardware upgrades, so a higher tag would've caused an even bigger exodus towards the Pros than last year.
What's new with the iPhone 15 and 15 Plus?
New 48MP main camera
Dynamic Island cutout
2x brighter 2000 nits M12 OLED display
4nm Apple A16 chipset
New U2 UWB chip for 3x farther connectivity
USB-C charging
2-year free Roadside Assistance with satellite connectivity
The new iPhone 15 color palette
Perhaps the biggest visual difference between the design of an iPhone 14 vs iPhone 15 is the cool Dynamic Island display that was heretofore a reserved trademark for the more expensive iPhone 14 Pro line. At the front, the iPhone 15 will now look like an iPhone 15 Pro, and that's a good thing for Apple fans who were feeling left out if they bought one of the… gasp… those cheaper iPhones.
While the Dynamic Island design FOMO is gone, the one of slower display and processing power stays. The iPhone 15 and 15 Plus are equipped with the same tired 60Hz refresh rate of its 6.1-inch and 6.7-inch displays. The only change is a newer generation OLED technology which is still of the cheap LTPS variety, but allows for a higher peak brightness than on the iPhone 14. To achieve this, Apple has supposedly equipped the iPhone 15 and 15 Plus with Samsung's 12th gen OLED display tech that was heretofore reserved for the Pro models.
The iPhone 15 and iPhone 15 Plus borrow two other hardware elements of last year's 14 Pro line – the 4nm Apple A16 processor and the 48MP main camera sensor resolution. The larger sensor would enable them to collect more light for night shots and hit more detailed 2x zoom photos, as it crops from the main sensor.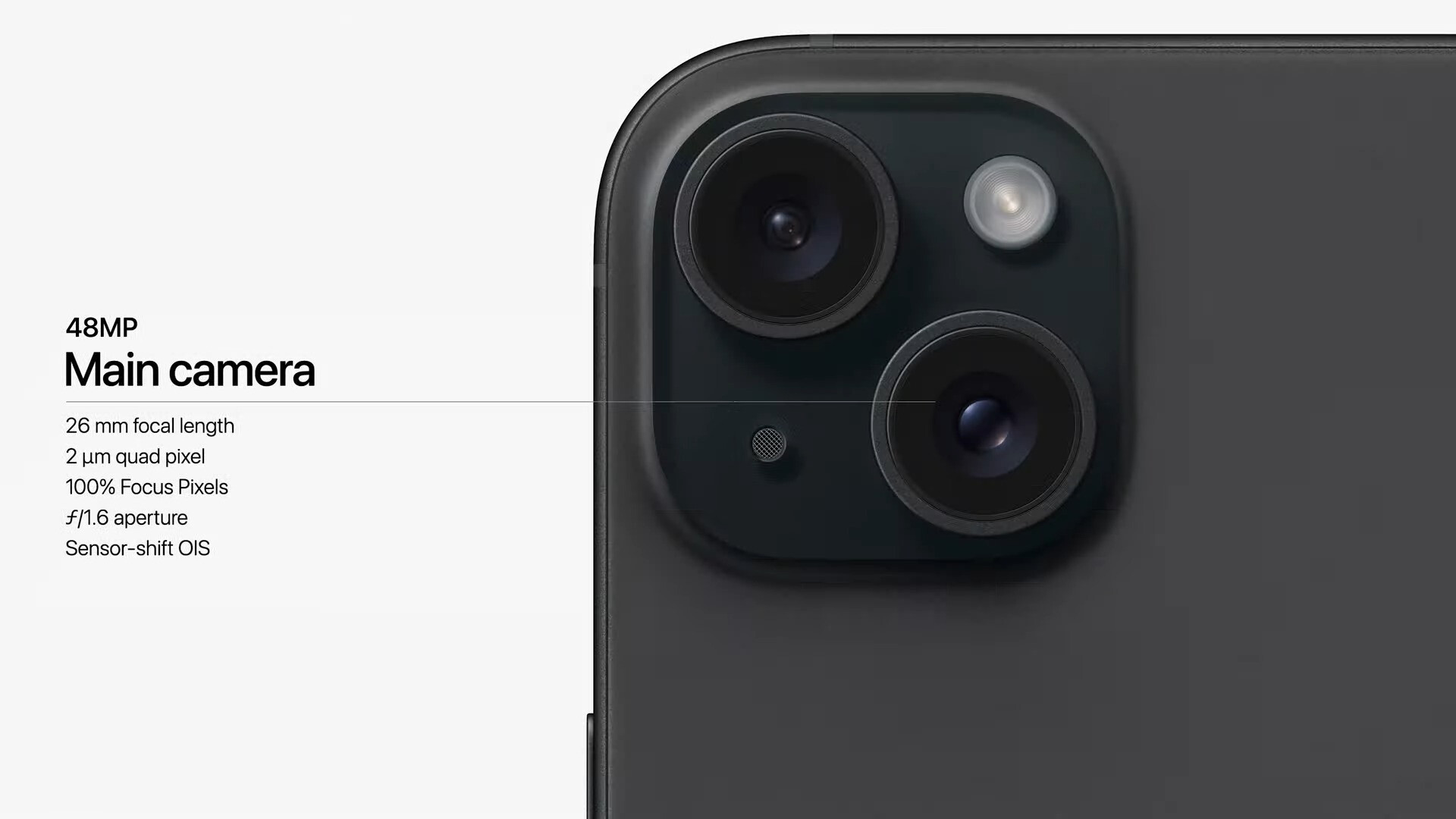 Apple iPhone 15's 48MP camera specs
iPhone 15 connectivity
The Apple iPhone 15 can connect from up to 3x farther away than its predecessor with the new U2 Ultrawide Band chip that was just announced with the Apple Watch Series 9. The improved satellite connectivity now includes Roadside Assistance that will launch in the US with AAA for members or as a standalone service. These new services will be free for 2 years with each new iPhone 15 purchase.
Battery life and USB-C charging
Last but not least, the larger iPhone 15 battery has undergone the most drastic, 18% capacity increase from its predecessor which should allow for 24 hours of video playback on a charge, up from 20 on its predecessor, as the A16 processor also comes more frugal.
Capacity isn't be the sole upgrade in the iPhone 15 series battery and charging realm, though. An European Commission legislation forced Apple to move to the USB-C port standard and these changes could contribute to both longer iPhone 15 and 15 Plus battery life, as well as a more convenient charging experience and less cable waste.
New Apple iPhone 15 and 15 Plus colors, preorders, and detailed pricing
The new iPhone 15 and its larger 6.7-inch iPhone 15 Plus sibling come with new colors as well as they are now painted in pink, black, white, blue and yellow. Gone are the red, gold, and other flashy hues which Apple's fans in China would scoff at, but government workers there recently got advised against using iPhones now anyway. Too soon? Well, we'll see how Apple's stock price fares after the new iPhone announcement.