Recycle with
DATA DESTRUCTION
We recycle devices making sure your data is impossible to recover.
Send Us Your Device
Ship to our secure location which is monitored with CCTV & 24/7.
Device Disassembled
Our technicians disassemble your devices.
DATA DESTROYED
The storage chip is 
disintegrated to smithereens
.
Recycled / Renewed
The device is sent to refurbishing companies in our network.
Why we offer
DATA DESTRUCTION

?

Problem
Most communication devices have built-in storage. Usually, companies when recycling, disassemble the device and part it out or use software that can wipe to industry standards. We noticed there is a niche market where some companies and people do not find a data erase or parting the device is good enough, and they choose to get the devices destroyed. These devices which have good parts that have no connection to data storage are being destroyed and piling up e-waste.

We thought we can help in reducing e-waste and came with a solution:  DATA DESTRUCTION.

Our technicians receive the device and disassemble the device to its components and remove all the storage chips located in the device.

These chips are collected and placed in Controlled Detonation Chambers (CDC). From which these storage chips are disintegrated into smithereens, leaving no trace.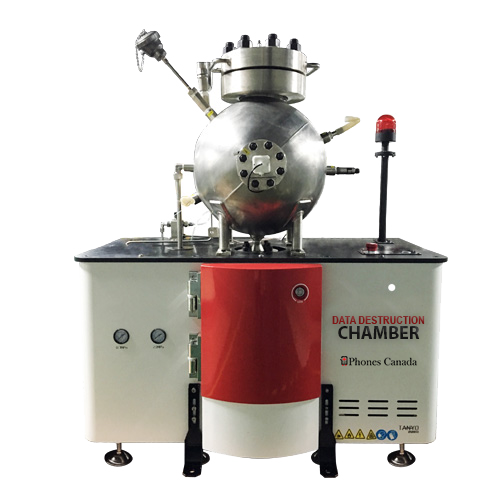 Send your devices in for

DATA DESTRUCTION

!

Fill in the form to submit a request for our DATA DESTRUCTION services. We will be in touch with you.
Some Frequently
Asked Questions
We will send you a full report which will include all storage devices that were destroyed into smithereens, along with the technician that worked on the device, also time stamps of what happened and when.
There hasn't been a device to date that we were not able to do. If one comes across we will update it here.
Our techs are assigned the devices as soon as we receive them. We can on average do it within 3 business days of us receiving the device.
Have a Question?
If the question you have has not yet been answered here, use the form by clicking the ask question button below.