A battery heavyweight with an AMOLED display
If you're not sure whether or not you should get the familiar-looking and lightly upgraded Apple Watch Series 9 as soon as it hits stores around the world this Friday, you might want to wait and check out Garmin's latest Android and iOS-compatible intelligent timepiece.
No, we're actually not talking about the undeniably beautiful and impressively feature-packed Venu 3 and Venu 3S unveiled just a few weeks back but rather an all-new Vivoactive 5 model expected to see daylight tomorrow, September 20. That's just in time to make you reconsider your early Series 9 purchase if you want something reasonably elegant, versatile, and powerful capable of producing much higher endurance scores between charges.
The Vivoactive 5 is likely to vastly improve the screen on the Vivoactive 4 (pictured here).
According to the presumably accurate inside information, this bad boy will be able to keep the lights on for up to 11 days on a single charge in "smartwatch mode."
While there are quite a few Garmin devices that can easily trump that number, 11 days would represent a significant upgrade over the 8 days of maximum autonomy promised by the existing Vivoactive 4. Incredibly enough, the Vivoactive 5 is also tipped to improve its predecessor's rather rudimentary transflective memory-in-pixel (MIP) display with state-of-the-art AMOLED technology, which you'd normally expect to have an adverse effect on battery life.
Somehow, that's evidently not going to be the case here, and the Garmin Vivoactive 5 will reportedly be capable of staying powered on for up to 21 hours without interruption even if you keep your GPS enabled at all times, jumping from 18 hours on the Vivoactive 4 in a similar usage scenario.
Compared to the Venu 3, those are slightly lower figures, but they're definitely high enough to absolutely crush all of the best smartwatches out there from rival brands like Apple and Samsung in this very important department.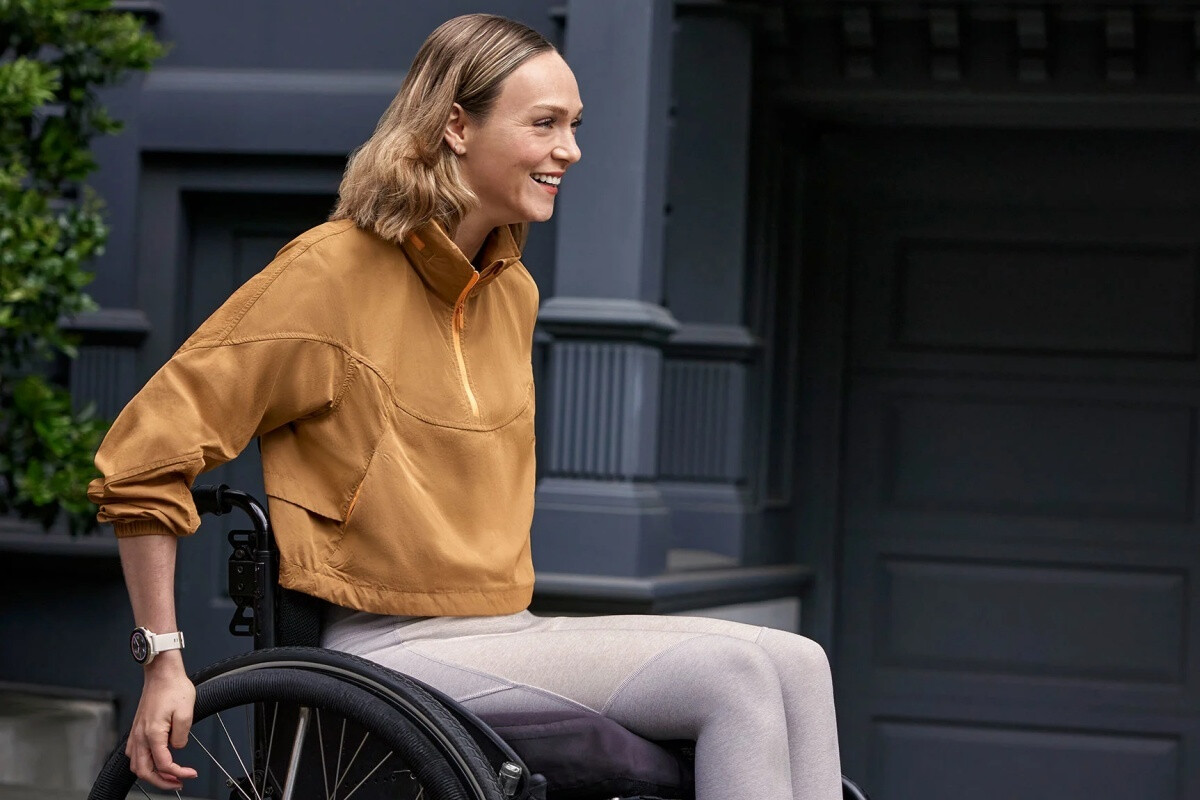 Wheelchair Mode is just one of many important new Venu 3 features the Vivoactive 5 is expected to borrow.
Okay, we'll admit, that's a bit of an exaggeration considering that Garmin's next big Apple Watch alternative (like its recent Apple Watch rival) has no fancy ECG or even fall detection technology. A body temperature sensor is also missing, but we should probably focus on the Vivoactive 5's many key strengths rather than its few notable weaknesses.
These include all the handy features and capabilities introduced with the Venu 3 and Venu 3S, from personalized sleep coaching to nap detection, heart rate variability, guided meditation practices, a wheelchair mode to help those in need, and a morning report to start your day on the right foot, as well as everything that's already on the Vivoactive 4, including body battery energy monitoring, all-day stress tracking, blood oxygen saturation technology, built-in sports apps, Garmin Coach support, and so on and so forth.
That's definitely a long and impressive list of health and fitness tracking tools for a smartwatch incredibly tipped to retain its forerunner's price point, at least in France. That almost certainly means that the Garmin Vivoactive 5 will cost the same 350 bucks as the Vivoactive 4 and 4S in the US as well with an aluminum rather than a stainless steel bezel and a number of different color combinations.
In total, there are four models expected to be globally released soon, pairing case hues like black, white, blue, and purple with gray, soft gold, metallic blue, and metallic orchid bezels, as well as black, white, blue, and purple silicone straps respectively at the exact same $349.99 recommended price stateside.
Curiously enough, this extraordinarily detailed list of specs and features is not accompanied by a single leaked picture or render of the upcoming Vivoactive 5, although its overall design is described as largely similar to that of the Vivoactive 4 apart from a few obvious differences derived from the aforementioned screen size and technology change, as well as the bezel material revision. Luckily, it sounds like we'll be seeing this thing in the flesh pretty soon.