In the early days of release, the internet was full of complaints about the iPhone 15 Pro getting abnormally hot. It was being speculated that a hardware issue was the culprit, with some blaming the A17 Pro chip, and others claiming that the phone had a smaller heat dissipation area and its new titanium frame had reduced the thermal efficiency of the phone.
Although most complaints have since died down and the iPhone 15 Pro has emerged as one of the best phones of 2023, some users say the phone still gets hot sometimes. While we will probably never know what exactly went wrong, whether it's just a bunch of commonly used social media and ride-hailing apps making the device toasty or it's a software kink, Apple surely wouldn't want a repeat of this, especially given that the iPhone 16 is rumored to be an underwhelming upgrade.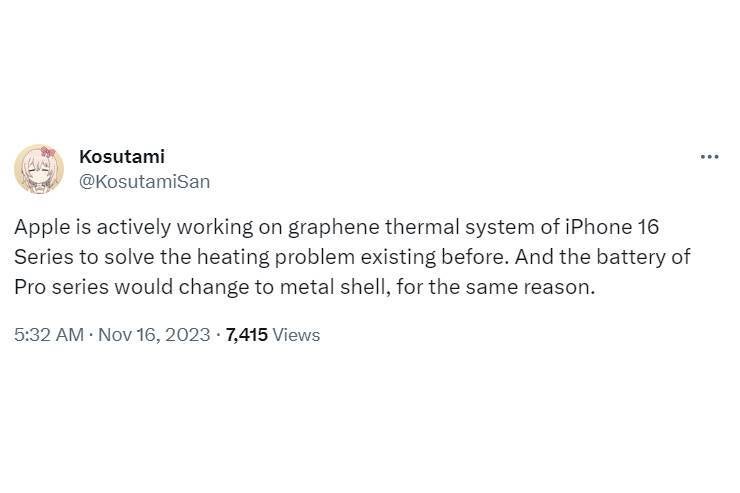 According to X user @KosutamiSan, Apple may make a couple of changes to the design of the iPhone 16 series to prevent overheating issues. The 2024 iPhones could switch to a graphene thermal system, which should improve thermal conductivity, as it's a more promising material than the currently used copper for heat dissipation.
Additionally, the iPhone 16 Pro and Pro Max could feature a battery with a metal shell. MacRumors notes that for the Apple Watch Series, the company has already transitioned from black foil casings to metal, so this change seems plausible for the iPhone's battery as well.
Kosutami is apparently in possession of iPhone 16 prototypes, which is how they claim they found out about these possible changes. They have a decent but limited track record.