According to a report by PerfectRec (via BGR), the one-month old iPhone 15 Pro model has the worst reviews of any premium iPhone yet. Going through more than 690,000 user-generated reviews online, PerfectRec found that the iPhone 15 Pro was rated 5 stars on 73% of these reviews. That was slightly lower than the percentage of reviews that felt that the iPhone 14 Pro and iPhone 13 Pro were worthy of 5 stars. The former collected 5 stars on 76% of its reviews while 84% of the latter's reviews gave it 5 stars.
While the iPhone 15 Pro is the worst reviewed premium iPhone of all time, last year's basic iPhone 14 model scored 5 stars on only 76% of user-generated reviews which was a stunning drop from the 80% scored by the iPhone 13. PerfectRec suggested that the public's lofty expectations for last year's basic model was simply not met by Apple. But this year, even with lower scores for both the iPhone 15 Pro and iPhone 15 Pro Max, the non-Pro iPhone 15 and iPhone 15 Plus have shown an improvement.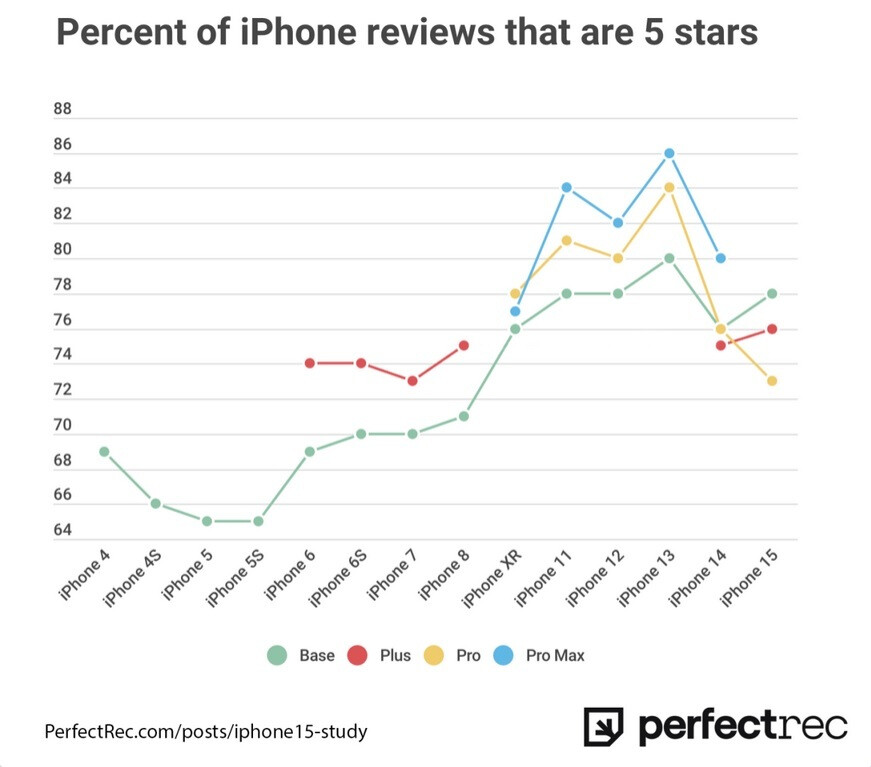 The percentage of 5 star user-generated ratings for the iPhone 4 to the iPhone 15 line
That could be due to the changes made to the non-Pro models this year which include the addition of the Dynamic Island, a hike to a 48MP image sensor for the rear main camera, and the move to USB-C charging/data transfer. And we shouldn't forget that the 4nm A16 Bionic chipset is powering these two models.
Despite the drop-off in 5 star reviews, the iPhone 15 Pro models have some new things going for them too, such as the titanium body, the hike to 8GB of RAM, the switch to USB-C from Lightning, and the use of the 3nm A17 Pro SoC, the only 3nm smartphone chip that will be used this year. The iPhone 15 Pro Max also adds Apple's take on the periscope lens, the Tetraprism lens, which offers 5x optical zoom on the top-of-the-line model.
Early complaints from iPhone 15 Pro and iPhone 15 Pro Max users about overheating might have led to the lower 5 star reviews although Apple has supposedly ended this concern with the iOS 17.0.3 update.