YouTube Fights Against Ad Blockers
YouTube began its fight against ad blockers back in July when users started to notice a warning when the app detected one of these was in use. Now, YouTube is reportedly ramping up these efforts to eliminate these blockers from being used and encourage users to go ad-free with the Premium plan instead.
In a statement to The Verge, YouTube Communications Manager confirmed that the company is indeed launching a "global effort" to rid the platform of ad blockers in order to support its creators and diverse ecosystem. Instead, YouTube wants you to watch the video as intended with ads, or opt to sign up for YouTube Premium if ads are truly a nuisance to you.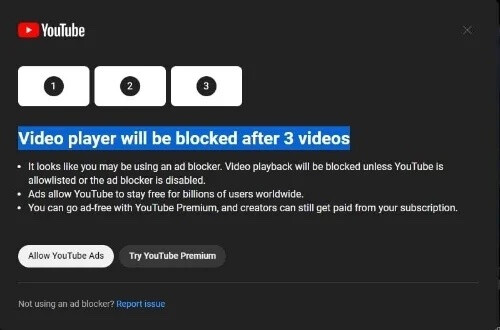 Credit – Reddit_n_Me
The company has been testing new methods to detect and block ad blockers for months, and it is now rolling out these changes more broadly. Previously, the above notice would appear, but could still proceed with watching videos without ads. It appears that for some users though, now the videos are completely disabled unless the ad blocker is disabled or youtube.com is whitelisted.
Furthermore, the company maintains that ad blockers directly violate YouTube's terms of service and cheat the platform's creators around the world out of the earnings they would otherwise get from Adsense. This is a tricky situation as the platform has recently implemented changes that make ad breaks longer but less frequent, affecting the users' online experience.
YouTube is not the first company to try to block ad blockers. Other streaming services, such as Hulu and Netflix, have also tried to do this. However, these efforts have largely been unsuccessful, as users have found ways to circumvent the blocks.
It is unclear how effective YouTube's new ad blocking measures will be. However, it is clear that the company is set on enforcing the rules and do right by its creators, even if it causes an inconvenience to some.