US Tightens Sanctions on China to Restrict Chip Manufacturing
Worried that the largest foundry in China, SMIC, was able to produce the 7nm Kirin 9000s 5G chipsets used to power the controversial Mate 60 smartphone series, the U.S. is looking to tighten the sanctions it has placed on Huawei specifically, and China in general.
Lithography machines are important in the process of manufacturing chips because they etch circuity patterns on silicon wafers that help determine the placement of billions of transistors in a chip. As the transistor count on chips continues to rise, thinner and thinner patterns, a fraction of the width of hair, are created by the lithography machines. Consider that the 3nm A17 Pro chip built by TSMC for the iPhone 15 Pro and iPhone 15 Pro Max each contain 19 billion transistors.
To allow the chip industry to continue shrinking the size of transistors helping it produce more powerful and smaller chips, ASML came up with extreme ultraviolet lithography (EUV) used to produce 7nm chips and lower. The lower the process node, the smaller the sizes of the transistors used which leads to higher transistor counts. Higher transistor counts typically result in more powerful and/or more energy-efficient chips.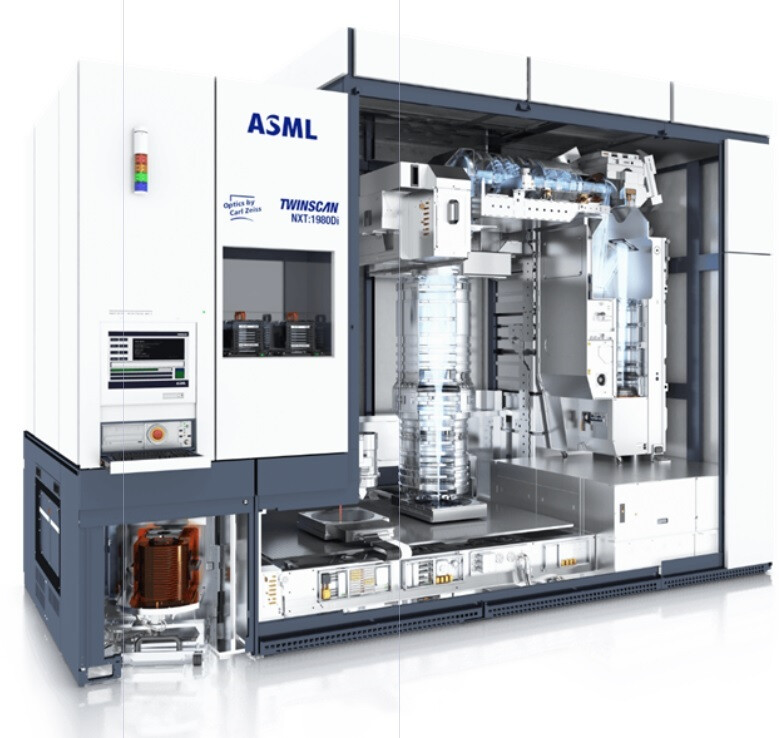 The NXT 1980 Di DUV machine is no longer allowed to be shipped to China to produce advanced chips
For now, only ASML makes EUV machines and they have been banned from being shipped to China. Recently, Japan's Canon improved on nanoimprint lithography (NIL) technology and says that NIL can now compete with EUV to mark wafers with circuitry patterns for 5nm chips. With further improvements, Canon says that the technology can be used on 2nm chips as well.
Yesterday, ASML Chief Executive Peter Wennick said that ASML's NXT:1980Di tool, not covered by rules pertaining to Dutch exports, will be restricted by the new U.S. export rules. The executive said, "In principle, the 1980s would fall under the export control restrictions, but only when … (they) are used for advanced semiconductor manufacturing." He said that demand from Chinese chipmakers for the DUV machine will remain strong despite the restrictions. Chinese sales were responsible for 46% of ASML's Q3 revenue.
With the restriction placed on using the NXT:1980Di to produce advanced chips in China, ASML believes that only a small number of fabs in China will be affected. Winnick, ASML's CEO, says that only 15% of his company's sales to China will be impacted by the new sanction. Despite the new export rule change, Winnick expects ASML to continue to receive business form China. "I don't think we will see a peak this year, I think there will be a significant amount of demand coming out of China for mature technology," the executive said.