French-based company Withings has unveiled its latest offerings in the form of two new hybrid watches, the ScanWatch 2 and ScanWatch Light. These new watches come equipped with enhanced sensors that enable 24/7 monitoring of various health metrics.
The flagship model, the ScanWatch 2, builds upon the original version by introducing additional sensors and software optimized to deliver continuous health monitoring and accurate assessment of new health metrics. Key features of the ScanWatch 2 include variation of the baseline body temperature, female cycle tracking, heart rate variability, and automatic recognition of over 40 activities.
Designed for day and night use over extended periods, the ScanWatch 2 boasts a remarkable 30-day battery life, facilitating continuous health tracking.
The addition of new sensors to the wearable device includes the MultiWave PPG sensor, which leverages 4 wavelengths and 16 PPG channels for improved accuracy, and the High Dynamic Range Accelerometer, which enables more precise identification and automatic tracking of activities and workouts.
Alongside the new hardware, the ScanWatch 2 features updates to the Withings HealthSense OS, enhancing its efficiency. Notably, the PowerSense Pro, responsible for identifying the optimal time to initiate a health measurement and send heart health notifications, has been updated.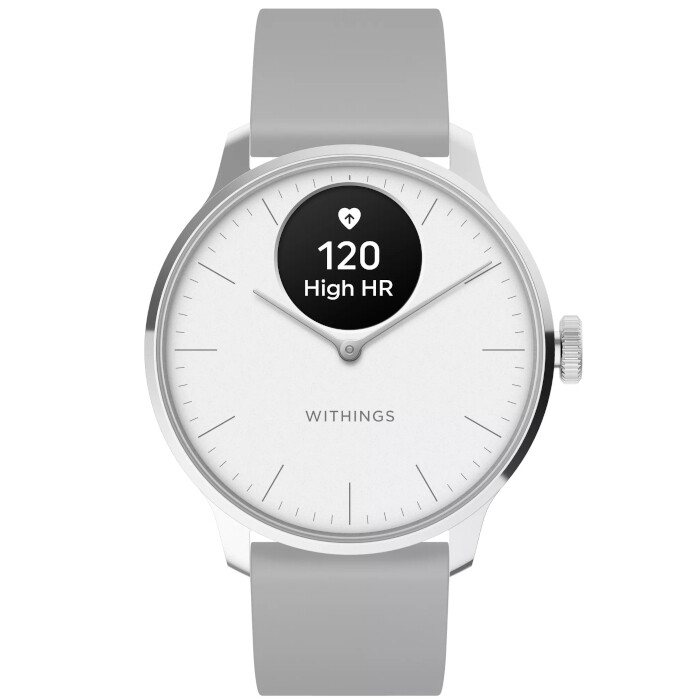 ScanWatch Light
In terms of availability and pricing, the ScanWatch 2 (38 & 42mm) can now be pre-ordered on the Withings online store, with prices starting at $350. It comes in silver black (42mm), silver white (38mm), silver black (38mm), and rose gold sand face (38mm) variants. On the other hand, the ScanWatch Light (37mm) is available for pre-order at $250, and it comes in silver black, silver white, and rose gold sand face options.
Withings has stated that both of these new hybrid watches will be available from selected retailers starting in October.