Apple set a precedent last year when it completely removed the SIM card slot from the iPhone 14 and going eSIM only. eSIMs are digital SIM cards that are embedded into a device, which can offer a number of advantages over physical SIM cards, such as security and flexibility. However, this change prompted justified concerns among Android users who now feared their favorite smartphone OEMs would follow suit.
As many iPhone users painfully discovered, transferring an eSIM between devices could become a convoluted process that involved deactivating the eSIM profile on the old phone and re-activating it on the new phone. It became obvious that while eSIM was destined to become the new standard, and pretty much the only option, the process needed to be refined and many cell phone carriers needed to get on board.
In light of the ongoing struggles, companies like Samsung and Google began to work on solutions. Samsung began the rollout of its fix last month with the release of One UI 5.1, which included an SIM to eSIM transfer and conversion tool among a small subset of its devices. Google stated back in February that it was working on its own eSIM transfer tool which we expected to debut widely with the public release of Android 14.
Thankfully, we are already seeing results. As reported by Android Police, based on findings by Mishaal Rahman, Google's promised eSIM transfer solution has arrived with the launch of the Pixel 8 series. This was spotted when a user came across the option to transfer an existing eSIM profile from an old Pixel phone to a new Pixel 8 Pro during the initial setup process.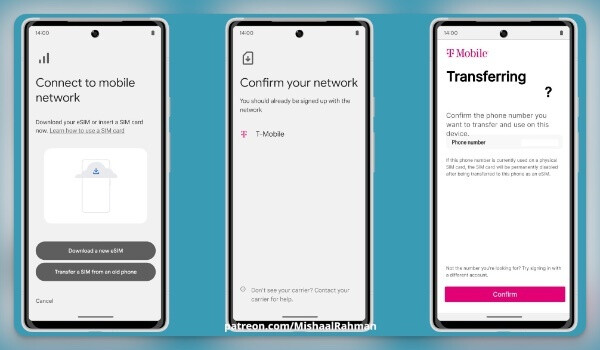 Additionally, the tool was found to include an option to convert a physical SIM card into an eSIM. This can be a huge convenience, especially if you are traveling or switching carriers.
Google's new eSIM migration tool simplifies the process by allowing users to directly transfer their eSIM profile from one Pixel phone to another, without having to contact their carrier. However, it is important to note that the tool may not work with all devices or carriers. For now, it has been reported to work between Pixel devices on T-Mobile in the U.S. and Deutsche Telekom in Europe, though this may not work as intended every single time.
Google's eSIM transfer tool is a positive step towards making eSIM migration on Android easier and more convenient. Hopefully, the obvious next steps to expand carrier and device support, follow without delay.