While Google Maps is still considered the top mapping and navigation app for mobile devices, Apple Maps has made an incredible turnaround after the fiasco that was the original launch of the service back in 2012 with the release of iOS 6. Apple was forced to start from scratch to revise the app and has done a pretty decent job of doing so, And now Google appears to be testing some new color options for Google Maps that match some of the shades used by Apple Maps.
Spotted by 9to5Google, Google Maps is testing a lighter blue color to represent water and any difference to the hue used by Apple is very minor. On the other hand, Google appears to be moving away from Apple by using a darker green color to indicate areas like parks and forests. Previously, Google and Apple both used a lighter shade of green to represent such areas.
From L to R current Google Maps, new Google Maps, Apple Maps. Image credit-9to5Google
But Google Maps is also testing the use of gray, instead of white, to signify a road, and dark gray to represent a highway. All of these color changes being tested bring Google Maps in line with Apple Maps' color scheme. And if you use Dark theme on both apps, Google Maps' implementation of it remains darker than Apple Maps. Dark theme on the mapping apps is an acquired taste with some drivers complaining that it is harder to view the maps on the apps using a darker background.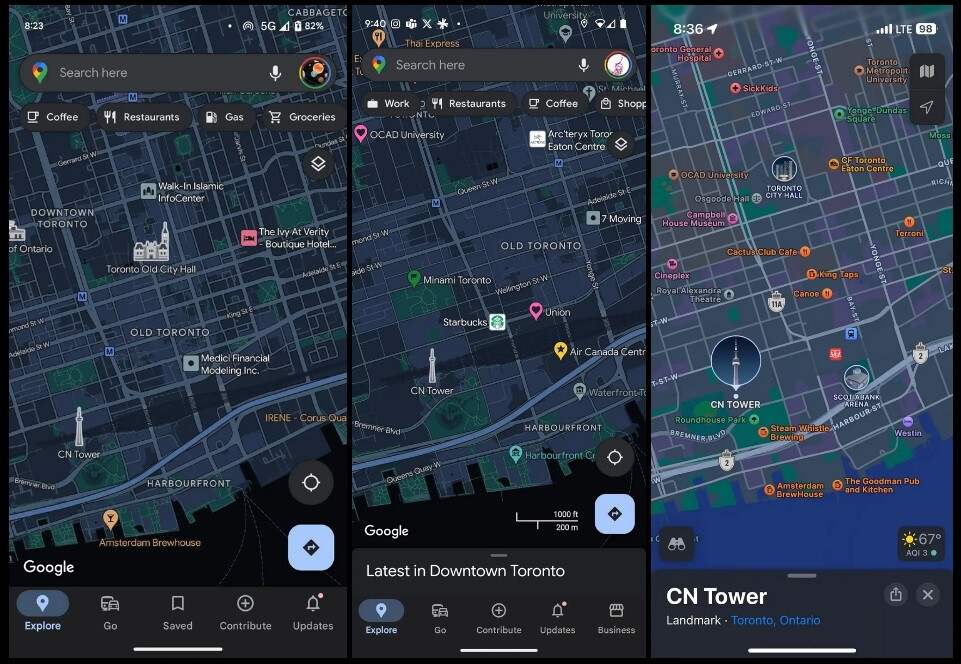 From L to R current Google Maps, new Google Maps, Apple Maps. Image credit-9to5Google
You can go into the settings for both apps and keep them in Light mode if that is what you prefer. Additionally, Google Maps is also giving the driving directions at the top of the screen a darker green background color although you will have to use it under real-world conditions to see what impact the darker color has on you.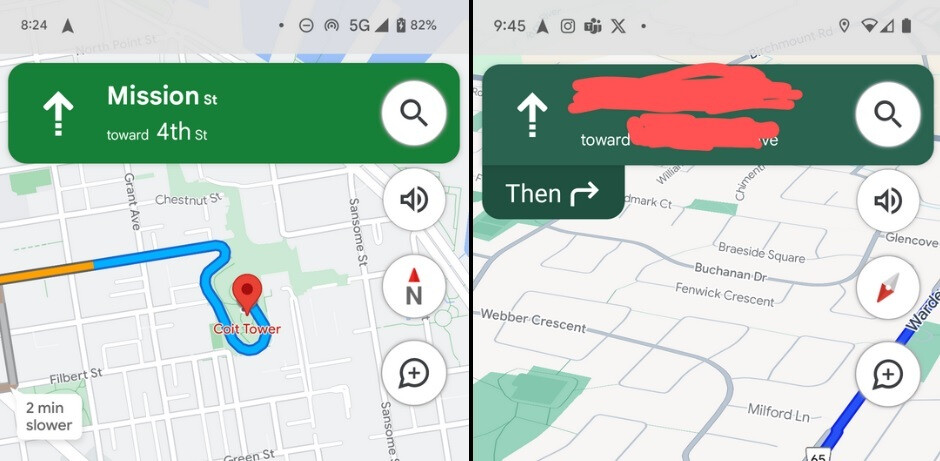 Current Google Maps on the left, new on the right. Image credit-9to5Google
The updated version of Google Maps is reportedly rolling out today to Android users although it has yet to hit my Pixel 6 Pro running Android 14 beta 5.2.