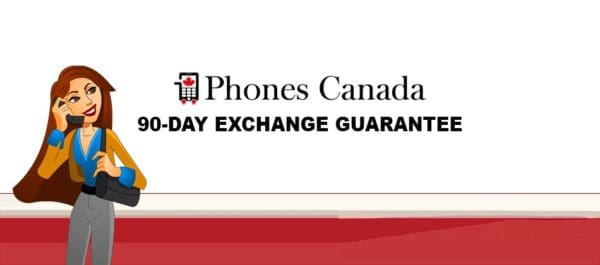 Our 90-DAY Exchange Guarantee
Confidence in Every Purchase
At Phones Canada, we take pride in the quality and reliability of our products. But we understand that sometimes, things don't go as planned. That's why we offer a straightforward 90-DAY Exchange Guarantee for your peace of mind.
Your Satisfaction, Our Priority
If for any reason you're not satisfied with your purchase within the first 90 days, we'll offer an exchange for a different model. We are here to ensure that you're happy with your device, because your satisfaction is our goal.
Easy and Fast Exchange Process
We've streamlined our exchange process to make it as easy and fast as possible. Simply fill out a form, and we'll start your 90-day exchange process. We're here to make sure you get a device you love.
See our Returns and Refund Policy for more details.
Quality You Can Trust
Our 90-DAY Exchange Guarantee reflects our confidence in our products and our commitment to you. When you choose Phones Canada, you're choosing quality you can trust.
Last updated July 19, 2023
DO WE MAKE UPDATES TO THIS NOTICE?
In Short: Yes, we will update this notice as necessary to stay compliant with relevant laws.
We may update this policy from time to time. The updated version will be indicated by an updated "Revised" date and the updated version will be effective as soon as it is accessible. If we make material changes to this policy, we may notify you either by prominently posting a notice of such changes or by directly sending you a notification. We encourage you to review this privacy notice frequently to be informed of how we are protecting your information.
HOW CAN YOU CONTACT US ABOUT THIS NOTICE?
If you have questions or comments about this notice, you may email us at [email protected] or by post to:
Phones Canada
4 – 6110 Ordan Dr,
Mississauga, ON
L6T 2B4, Canada
Start Your Exchange Process Now
Ready to start your exchange? Our team is on standby to assist you. Begin by filling out our straightforward exchange form. You'll need to provide your full name, email, phone number, date of purchase, order/invoice number, and the reason for the exchange.