Samsung's Exynos 2400 chipset is expected to end up powering the Galaxy S24 and Galaxy S24+ handsets in most markets. In the U.S. and China, those models will sport the Snapdragon 8 Gen 3 for Galaxy SoC, and the top-of-the-line Galaxy S24 Ultra will be equipped with Qualcomm's latest flagship Snapdragon application processor (AP) in all regions. Benchmark tests show that the Exynos 2400 chipset, using a deca-core configuration, is not quite the performer that the Snapdragon 8 Gen 3 is, but it is closer than in past years.
The deca-core configuration of the Exynos 2400 SoC includes a Prime core Cortex-X4 (clocked at 3.1GHz), two Cortex-A720 performance CPU cores (with a clock speed of 2.9GHz), three more Cortex-A720 performance CPU cores running at 2.60GHz, and four Cortex-A520 efficiency CPU cores with a clock speed of 1.8GHz. With five performance cores, and the Exynos chips' propensity to overheat, thermals are important and a report from Korea's EDaily (via SamMobile) says that Samsung Foundry has started using FOWLP (Fan-Out Wafer Level Packaging) technology with chips that are currently being delivered to customers.
Making sure that the chips it builds, not just Exynos chips, stay cool under pressure is an issue that Samsung Foundry needs to master if it has any aspirations of surpassing TSMC to become the top foundry worldwide. Ironically, FOWLP is a technology already used by TSMC to improve the thermals of the chips it manufactures and thus their performance. Once a chip overheats, its performance is negatively impacted.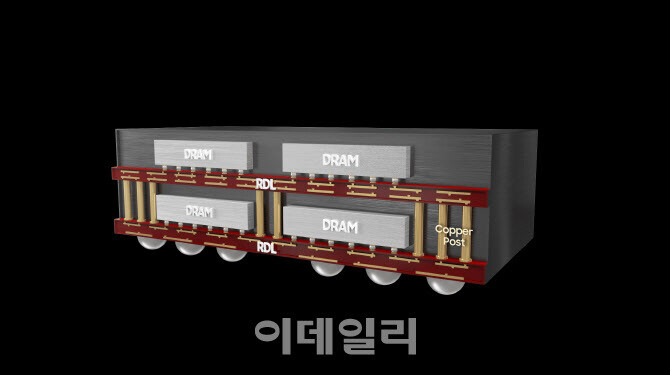 Samsung's GDDR6W graphics memory chip using FOWLP packaging technology
FOWLP not only allows chips to run cooler, it allows them to be thinner. Compared to the packaging technology employed these days (FC-BGA or Flip Chip-Ball Grid Array), chips using FOWLP are 40% smaller, 30% thinner, and deliver 15% greater performance. The Exynos 2400 AP, which is being built by Samsung Foundry using its second-generation 4nm process node (4LPP), is expected to use FOWLP chip packaging technology to improve power efficiency and reduce the chipset's size.
Samsung has high hopes for the Exynos 2400 AP. Not only will using the chipset save the company some money compared to what it spent this year to outfit the entire Galaxy S23 line with the Snapdragon 8 Gen 2 for Galaxy chipset, but it could also help Exynos chips gain a new reputation for performance without overheating.